---
---
NECRONOMICON - Online - Shop
Payments can be made by transfer to the IBAN account:
IBAN DE08 3008 0000 0232 3850 00
BIC: DRESDEFF300
or by the particular PayPal button.
If you pay by bank transfer please declare the reason for payment and the mailing address plus email address.
With your purchase you accept our provider identification
and Rechtliche Informationen des Verkäufers (Legal Informations of the Seller).

---
---
Article: Verwundete Stadt CD with Bonus Song "Alle Jahre Wieder" live
CD with the songs:
"Verwundete Stadt", duration 3:30.
"Alle Jahre Wieder", duration 13:00, studio edited live version .

Details: 2016 - Verwundete Stadt, CD

Price: 4,90 Euro
postage costs inside Germany: 3,00 Euro
postage costs abroad: 6,00 Euro

---
Both songs alternatively can be downloaded:
When you choose the PayPal payment option after payment a botton is presented


(back to seller)
This button leads you to the Download Page of the acquired article. Should a download be impossible please give feedback via the contact page. From there please fill in your PayPal email address. Our service then will send the music file directly to this address.
Article: Verwundete Stadt (Download-Link)

MP3-Version of the song "Verwundete Stadt", duration 3:30.
Details: 2016 - Verwundete Stadt, download
Preis: 1,29 Euro



Article: Alle Jahre Wieder (Download-Link)

MP3-Version of the song "Alle Jahre Wieder", duration 13:00.
"Alle Jahre Wieder" is a studio edited Live-Recording from a concert NECRONOMICON performed in the SPACE of the Ludwig Forum of Modern Art in Aachen, January 2016. Originally the song in 1973 was written as a signal against the war in Vietnam. In 2015 only a few country names were changed in order to denounce the even more numerous war situations in the world. This mp3-Version is identical to the audio track of the Video on YouTube but with highly improved sound quality due to studio editing (Liedtext).

Preis: 1,29 Euro
---
---
Article: NECRONOMICON Live in Concert 1973
Double-Vinyl-LP (2x 180g) in clear protective cover handsigned by all band members and with additional download card; only 500 examples were made
Details: 2016 - Double-LP with live recordings of a concert in 1973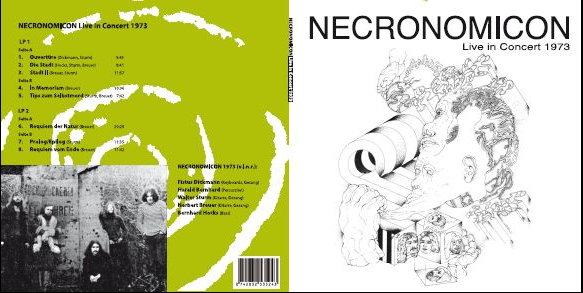 Price Double LP:39,00 Euro
Postage within Germany: 5,99 Euro
Postage abroad: 15,99 Euro
---
---
Artikel: HAIFISCHE
2012 - HAIFISCHE, Vinyl-LP+CD
Details: 2012 - HAIFISCHE, Vinyl-LP+CD


Price LP: 50,00 Euro
Postage within Germany: 5,99 Euro
Postage abroad: 15,99 Euro
---