---
---
The value especially of the original LP "Tips zum Selbstmord" increased enormously in the nineties. The "Cosmic price guide 2004" by Ulrich Klatte lists it at 850€. At the end of 2003 it was even sold at Ebay for 1600€. Since it is quite common that rare LPs are looked for so hard, bootlegs are showing up on the market, too. Already in 1989, an illegal version of "Tips zum Selbstmord" was released in Italy (Lost Records LR"001), numbered and supposed to be limited with 300 copies. The simple cover, which couldn't be folded out, wasn't like the original with a white background and a black writing, but vice versa. Even this version is traded at 50€ per copy, now.
Market prices at www.popsike.com
---

LP Tips zum Selbstmord (I 1989, Bootleg) A

LP Tips zum Selbstmord (I 1989, Bootleg) B

(please click to enlarge images)
---
In 2003 another bootleg version appeared on LP. Again the cover couldn't be folded out, but the colors were like the original ones. Its flip side shows the band's pictures, but as negatives. The LP's last groove shows the word "Necro" and additionally "Lado A" and "Lado B" on the respective sides. Apparently, the LP comes from Mexico, like the rumor goes on record fairs. In the meantime this bootleg version exists with two different labels: one of it has no ordering number at all, the other one shows 60634. Because of their simple covers, however, these fakes are easily recognizable as bootlegs.

LP Tips zum Selbstmord (Mex 2003, Bootleg)

LP Tips zum Selbstmord (Mex 2003, Bootleg)

(please click to enlarge images)
---
But, to make things even worse, in the very same year of 2003 an almost perfect fake appeared on the market. With a fold-out cover like the original it isn't discernible as fake at first glance. Its manufacturers spreaded the rumor that in 1972 about 150 original covers had been left and, not wanting to waste these, the band had the missing LPs been manufactured again, but with a slightly different label. A very nice story, however it isn't true at all. Neither had there been some covers left, nor was the LP re-released. But the counterfeit is on the market and is being traded with 400€ and some have already been sold. The only distinguishing features are these: the original LP (without its cover) weighs about 170g, the fake only 140g. The counterfeit shows a slightly different character set for the playing times than the original and the word "Seite" (page) is printed with a different style "S". Thus, the label seems not to be scanned or photographed from the original, but rather printed anew. The most prominent differences: the phrase "Made in Germany - Hersteller:
Carl Lindström GmbH, 5 Köln 41" is missing at the lower end of the label; in contrast to the original LP there is no letter-number combination F 60 634 A-1 resp. B-1 imprinted into the vinyl behind the lead-out groove.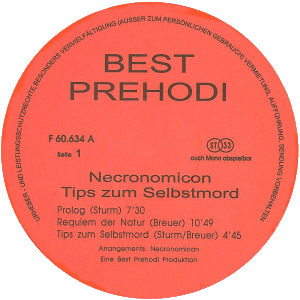 LP Tips zum Selbstmord (D 2003, Counterfeit)
(please click to enlarge image)
---
In 2003 a bootleg CD version of "Tips zum Selbstmord" was released, eventually.
Since we want to take the makers of such bootlegs in charge by law, we ask for the cooperation of fans and collectors: if someone offers any of the fakes, counterfeits or bootlegs to you, please note his/her name and address as well as the date of sale and please report it to us by means of our contact address.