---
2017 again "Best Progressive Band "
At the finals of the 35th annual German Rock & Pop Prize on December 9th, Necronomicon won in the category for "Best Progressive Band" for the second consecutive year.
An abridged version of "Licht und Schatten" from their latest Album "Verwundete Stadt" was performed.

"Verwundete Stadt" is available as LP, CD and online at common stores.
Film of the performance in Siegen. Now in fine sound quality.
<
---
---
Documentation of the Band Necronomicon.
A film by Roswitha Wirtz.
---
---
New LP + CD - Verwundete Stadt (Wounded City)
On Saturday, 28.10.2017, during a concert in the SPACE of the Ludwig-Forum, Aachen, the new Vinyl-LP + CD "Verwundete Stadt" was introduced. This is an album, in which NECRONOMICON in 5 symphonic rock songs deals with the manifold problems of modern cities. In "Trostlose Stadt (Desolate City)" the impoverishment of a metropolis is described, "Licht und Schatten" tells about the contrast between the living of rich and poor in the same town. "Frühling in Fukushima" tries to describe a glimpse of hope after a nuclear catastrophy. "Alle Jahre wieder" is a studio version of an anti war song which already has been published in a live version in 2016, which originally was written in 1974 against the war in Vietnam. Unfortunately the topic is still up-to-date.
"Verwundete Stadt Berlin" deals with the terror attack of Berlin in Dec. 2016.
Cover

The CD additionally comprises a short version of "Licht und Schatten"
---
Friday, 31.03.2017, concert in the "Franz" in Aachen,
Franzstr. 23, Admission: 19.00, Start: 20.00.
Advance sale via "Franz" (www.franz-aachen.de) and Eventim (www.eventim.de)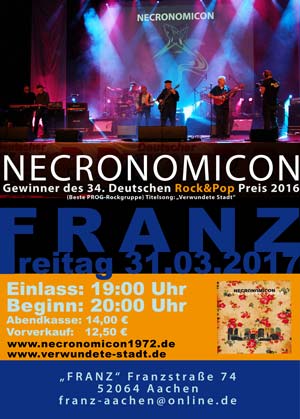 ---
For the first time in their history the band wrote a song lasting only 3'30". Thus, the song theoretically might be presented in radio broadcast.
As a bonus track the CD comprises a recent live recording of a song which in 1974 was written as an Anti-Vietnam-War song "Alle Jahre Wieder".
Details: 2016 - Verwundete Stadt (Wounded City), CD
The CD can be ordered from our new Shop. Both Songs also can be downloaded from there.
"Verwundete Stadt (Wounded City)" won the first price in the category "Best Progressive Band" during the finale of the 34th German Rock & Pop Price on Dec., 10, 2016 in the "Siegerlandhalle" in Siegen, Germany.

Further informations for this event can we found on the website of the festival organizer Deutsche Popstiftung